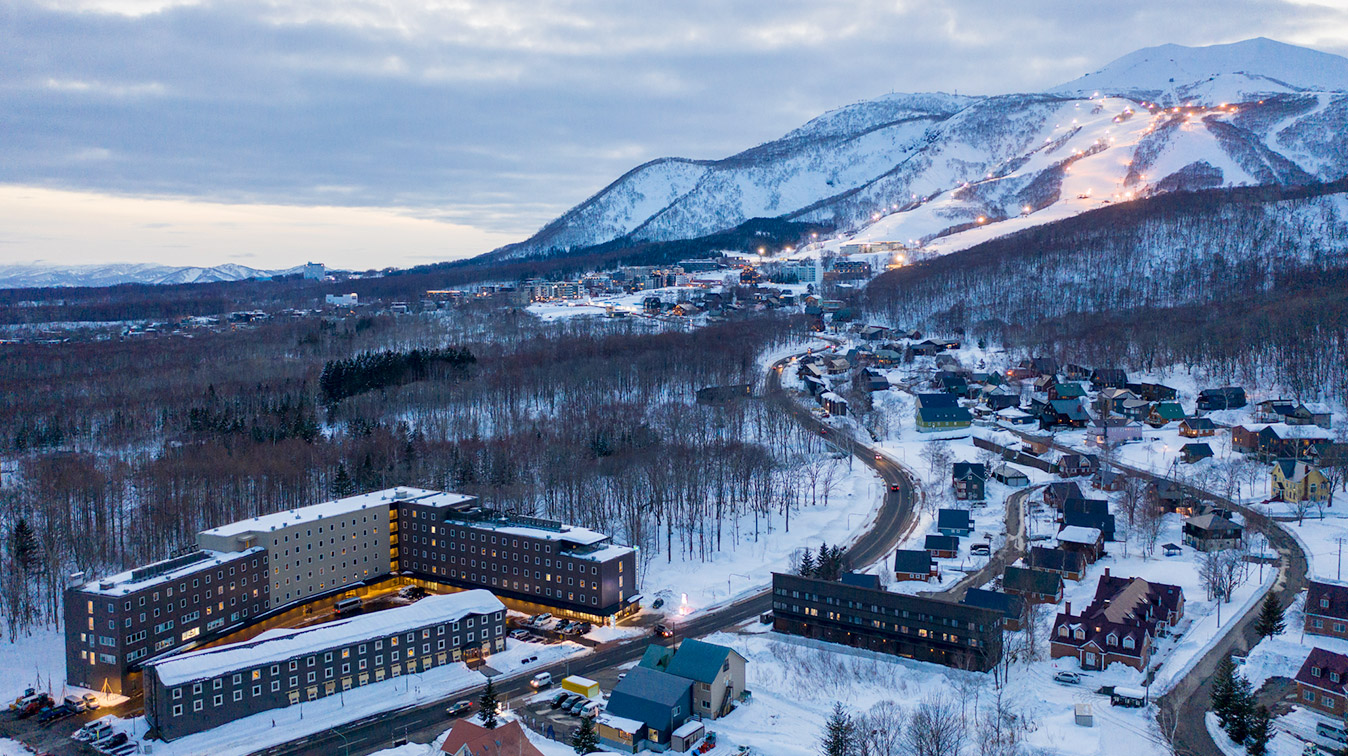 GETTING HERE
Located in the southwest corner of Hokkaido, Niseko is easy to reach from Sapporo (札幌), one of the top 5 big cities in Japan, and New Chitose Airport (新千歳空港), the great entrance of Hokkaido. Your most likely route from the majority of US and European cities is via Tokyo, but direct flights to Sappro now run from Australia and most Asian cities. Check out your transport options from airport to Midtown Niseko!
Shuttle Bus
Ski resort bus is strongly recommended in Winter season.
The most simple and recommended way to get you to Midtown Niseko from New Chitose Aiport or Sapporo in Winter season is one of many shuttle bus options. A ticket will cost around JPY4000 per way, this is the most economical way of transport and you may expect wide comfortable seats and a bathroom stop within the 3-hour ride. Buses run every hour during high season, starting at 9:30am up until 9:30pm. Advance online reservation is required. To book a ticket, please visit the shuttle bus companies website from the link below. You may get more necessary information about the shuttle bus services.
Hokkaido Resort Liner
White Liner
NGS
Even though tickets can be bought at the airport, we strongly recommend our guests to buy them online to make your journey easier. Travelers will be dropped at the "Hirafu Welcome Center", and the Midtown Niseko Shuttle Bus will pick you up in front of Welcome Center building. It will take only 5 – 10 minutes drive down to the hotel (*Please note that Midtown Niseko Shuttle Bus operates only in Winter)
Car Hire
Rental car is strongly recommended in Summer season.
Hiring your own car means having the freedom to explore the different areas of Niseko and beyond, including Rusutsu, Toya and more. Please note that your International Driving Permission will be required as you drive. Hiring a GPS might be useless unless you understand Japanese language to input a destination, phone numbers instead of address. Downloading Google Maps to your smartphones and making the necessary arrangements prior your trip would be more helpful. Book your wheels online, pick you ride up a the airport, and expect a two – three hour drive to reach Midtown Niseko.
Experience is advised if you are not used to icy roads and occasonal blizzard conditions. Snowy roads are very slippery during winter. As alwaysm please be careful when you drive.
Train
The Japan train system is reliable and fast. From both Sapporo and New Chitose Airport, although this will take longer than the airport shuttle bus, you need to transfer once at Otaru Station to change a line which makes this option less convenient and more time-consuming. From New Chitose Airport station take "the JR Rapid Airport line" to Otaru Station, from Sappro Station take line to get to Otaru Staion, where you will change to "Hakodate Honsen line" to reach Kutchan Staion. Please be aware that the nearest Station is "Kutchan Station", not "Niseko". A one way ticket will cost around 3,500 JPY (the seats reservation will cost more) and the whole journey is likely take three and a half hours depending on the snow conditions and how long you have to wait for the connection. Please visit the website from the link below to get more information.
Private Taxi
If you are traveling as a group or family then perhaps a private taxi would be flexible option for you to reach Midtown Niseko. It is quicker than Bus or Train. Even though the price for a taxi will depend on the size and the distance, it will approximately cost a minimum of 26,000JPY. That is just for a basic car to fit four people, for a larger cars and carrier type vehicles the price can go as high as 50,000 JPY. The advance reservation is required.