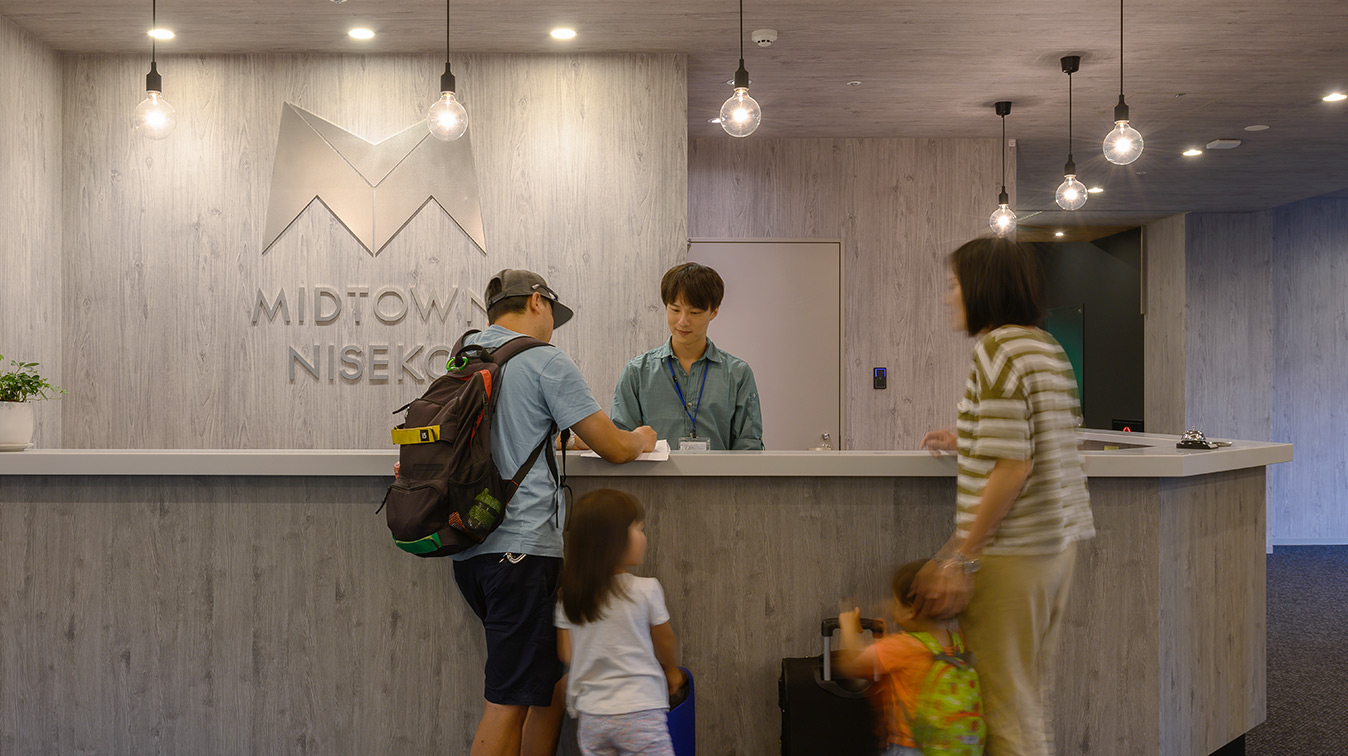 FAQ
Frequently asked questions about visiting Niseko. If you require a definitive answer or just want to talk to a real person, please contact us at [email protected] or by phone +81 (0) 136 21 2888. We look forward to welcoming you!
General
Logistics
Cultural Differences
Snow Gears Rentals
Don't see a question that you need answering? Contact Us
Why Niseko?
Four time winner of "Japan's Best Ski Resort", Niseko has built its reputation on develop into a world class resort with a unique blend of Japanese culture and international influence, Niseko offers an experience like no where in Japan or the world. Because of its northern location, the resort is internationlly renowed for its consistenly good falls of of light powder snow and its long ski season which runs from late November until early May.
When is the best time to come to Niseko?
Anytime of the year is a great time to vacation to Niseko!
If you are looking for fresh tracks and world-class powder, travel to Niseko and enjoy the powder snow from the middle of December through to the end of February.
March is also a great time to come to Niseko. The resort is quiet, accommodations are cheaper, and you tend to have lots of sunny days! This time of year we recommend for families as usually the weather is warmer and you can enjoy longer days and shoulder season discounts.
April is a great time to enjoy spring skiing with warmer, often sunny weather conditions.
The lifts are open until the first week of May. With the start of the snow melt, the rivers begin to flow and it is a great time to enjoy rafting.
Summer in Niseko is perfect. With great scenery and lots of activities such as hiking, cycling, golfing and many more.
If you come around September and October you can enjoy the Autumn colours of Niseko. A great time to visit the hidden lakes and trekking passes around the mountain.
Is Niseko a safe area?
Definitely ! It is Japan ! A 2014 Organization of Economic Cooperation and Development study ranked Japan as "the safest country in the world." The only things to be wary of are walking on sometimes slippery sidewalks.
Where is Niseko?
Niseko is located on the northern island of Japan – Hokkaido.
The closest airport is New Chitose Airport (CTS). It is a 2 hour flight from Tokyo, a 4 hour flight from Shanghai, a 5 hour flight from Hong Kong, and a 10 hour flight from Singapore via Tokyo.
How far is Sapporo Chitose airport from Niseko?
The transfer from Sapporo Chitose airport to Niseko takes between 2 to 2.5 hours for a private taxi, 3 hours for scheduled coach transfers or 3.5 hours on the train.
The closest train station from Hirafu Niseko is Kutchan station. From here it is a 15-20 min bus or taxi ride to Hirafu Niseko.
The duration of your journey will depend on weather and road conditions.
What time does the last scheduled coach transfers leave the Sapporo Chitose airport?
The last coach transfer departs from Sapporo New Chitose Airport at 22:40PM. *
Arrival in Niseko Resort on this transfer is at 01:25AM
You may notice that the arrival bus stop location is called: "The Welcome Center" also sometimes referenced as "Hirafu Parking Number 1"
* Service provided by a third party company and Vacation Niseko can't guarantee availability. Get in touch with us to check availability.
How much time is required at the Chitose Airport before I can connect to the scheduled transfers?
Domestic flights require a minimum of 50 minutes to catch your Scheduled Transfer.
International flights require a minimum of 90 minutes to catch your Scheduled Transfer – due to luggage collection and custom clearance.
How much time before my flight takes off should I leave Niseko?
You will require 2~3 hours from Niseko to the Chitose Airport. This will depend on weather and road conditions.
We advise you to leave at least 4.5 hours before your take-off time for international flights and 3.5 hours for a domestic flight.
There are plenty of shopping opportunities (even an onsen and movie theater) and many kids attractions in the airport so do not hesitate to arrive early, especially when considering winter driving conditions.
It is recommended to leave earlier than usual during peak periods over Christmas, New Years, and Chinese New Year.
How far is Sapporo city from Niseko?
Sapporo city is 2.5 hours by private taxi and scheduled coach transfers or 3 hours on the train.
This will depend on weather and road conditions.
How do I get to Niseko from the airport?
Niseko is easily accessible from New Chitose Airport, public economy coaches running regularly from New Chitose Airport to Hirafu Welcome Centre.
You will need to pre book all transfer options at least 14 days prior to arrival.
It is recommended to reserve your airport transfer as soon as you have finalized your flights.
If you wish to catch the train from Sapporo Chitose airport to Niseko you will need to catch a train to the Kutchan JR station. You will take a train from New Chitose Airport to Otaru JR station. Here you will need to switch trains to get to the Kutchan JR station.
Please note we recommended that you arrive at the "Kutchan JR station". Contrary to their names, the Niseko and Hirafu JR stations are not the closest stations to disembark at.
Kutchan is the nearest station which is a 15-20 min bus or taxi ride to Niseko. Directly in front of the Kutchan station you will find a taxi rank. Please take a taxi to "Midtown Niesko" to check in (if not advised otherwise). If you would like to take a local bus(Niseko United Shuttle Bus) to Niseko please inform the driver to drop off at Midtown stop, and you will see Midtown Niseko.
Midtown Niseko Address:
(English):
91-17 Aza Yamada, Kutchan-Cho, Abuta-Gun, Hokkaido 044-0081 Japan Phone Number: +81(0)136-21-2888
(Japanese):
044-0081 北海道虻田郡倶知安町字山田91-17 電話番号:0136-21-2888
Where and what time do I check In and Out?
Check In 15:00PM.
Check Out 10:00AM.
For guests arriving or departing outside of these hours please let us know and we can help store your luggage accordingly.
I would like to send my luggage in advance, where should I send it to?
When sending your luggage please note to enter the name of the primary guest who is booked with us and your booking number. This is essential so that we can pre arrange your luggage to be delivered to your accommodation.
Send your luggage to the following address:
Primary Guests Name:
Booking Number:
Midtown Niseko
91-17 Aza Yamada, Kutchan-Cho, Abuta-Gun, Hokkaido 044-0081 Japan
Phone Number: +81(0)136 21 2888
Can I ship my luggage from Niseko to an airport in Japan?
Yes, and we can assist with this, however please note that sending luggage can take about 2-3 days especially if you are flying out of Tokyo Narita or Haneda airports.
If you wish to ski on your last day it may not fit to your requirements.
Once you have arrived in Niseko we can assist with these arrangements on a pay on arrival basis.
I am arriving late at night where can I get food around the hotel?
There are two convenience stores and both are opening 24hrs near Midtown Niseko only take 5 minnutes by walk.
Do I need to pre book ski rentals?
We recommend pre booking ski equipment during the peak season (20th of December through to the 1st of March) or if you have any special requirements to guarantee availability.
If you are interested to book your rentals here is the following information for you click here.
Where and when can I pick up my ski rental equipment?
The pick up location of your gear will depend on your accommodation location or the location you requested to pick up your gear from.
For guests who have booked their rental equipment through Vacation Niseko you will be notified with our final pre arrival document.
We have three Pick Up Locations in Niseko:
Hanazono 308
Hirafu Zaka
The Vale Niseko
You can pick up your gear the day before use anytime after 16:00PM and before 20:00PM.
Are there hospitals and doctors?
Yes! The largest hospital in the area is called Kutchan Kosei Byoin or Kutchan General Hospital. They have a number of staff who can provide assistance in English and have keep a translator on staff to assist with English-speaking patients. For serious emergencies, the injured party may be transferred to a larger hospital in Sapporo. There is also an International Medical Clinic https://www.niseko-nic.com located in Izumikyo.
What do I need to know before renting a car?
Please ensure you have a valid international drivers licence recognized by the Geneva Convention of 1949 in addition to your home-country drivers licence.
Please note international licenses for the following countries are not valid in Japan:
Switzerland
Germany
France
Italy
Belgium
Taiwan
For these six countries you can use your home-country license but it must be accompanied by a Japanese translation issued by the appropriate authority. Without this translation you cannot lease a vehicle. For more information click here.
Please note that Japan has a zero blood alcohol level.
Children 6 years old and under must be seated in appropriate child safety seat.
If you book your car with us, we provide 4WD cars, including winter tires, English navigation and snow clearing tools. Snow-chains are not allowed and/or necessary in Niseko.
One roof rack fits either 4 Skis or 2 Skis and 2 Snowboards.
The roads in Niseko are snow cleared on a regular basis however, parking spots are limited and are available on a first come first serve basis.
There is limited public parking available in Hirafu Village, but no guarantee that this will be nearby to your accommodation.
The cars must be returned with a full tank. If you cannot return the car with a full tank a fuel charge will apply.
The rental car periods are counted on a 24 hour basis.
Please note if you are staying in a Vacation Niseko property you may be asked to move your rental car overnight to allow snow clearing of parking spaces.
Where can I pick up and drop off my Rental Car?
You can pick up and drop off your car at the Sapporo Chitose airport or in Hirafu if agreed in advance.
Pick up destinations and drop off destinations are to be advised accordingly.
If you are looking to pick up and drop off your car at the Sapporo Chitose Airport, please note Rental Car companies office hours are usually between 8:00AM and 20:00PM.
What can I do if I don't ski or snowboard?
Activities such as snowmobiling, snowshoeing, horse riding, rock climbing and snow kiting are readily available. There are also several massage providers for anyone in need of a little pampering. If you like to try good food there are many restaurant in Niseko or experience Japanese culture like onsen, tea culture even gallery.
Is there an international ATM in Niseko?
Japan is still a very cash based society.
More and more restaurants are starting to accept credit cards but it is recommended to have cash with you especially for late arrivals and when skiing.
Please also note that there are limited options to withdraw money or exchange currency in the village.
Currently there is only one ATM accepting foreign bank/credit cards for cash withdrawals.
Banks are closed in Japan on the weekends and Japanese public holidays such as New Years.
Can I use a credit card in Niseko?
Japan is still largely a cash based society and it is recommended you always have sufficient cash on you.
However in the Niseko area more and more restaurants are now accepting credit card payments.
Are there any Japanese customs I should be aware of before arriving in Japan?
Before entering your accommodation you will be required to take off your shoes and put on slippers provided. Please refrain from walking in any accommodations with your shoes on. This also includes ski boots, snowboard boots, shoes with spikes, etc.
Alcohol is only served to persons 20 years or older.
Japan has a zero blood alcohol level for driving.
Onsens are public baths that have rules. You first wash yourself before entering the bath and you do not wear swim suits in the onsen. Some mixed onsens provide bathing suits (usually only a modesty towel) for male and female guests.
Eating and drinking in public, and littering are ill-mannered. Please refrain from disposing of cigarette buts. Portable ashtrays can be bought at any convenience store or 100 Yen store in Japan.
Is there any supermarket in Niseko?
Yes, there a supermarket in Hirafu. It is located in the Hirafu188 building on Hirafu-zaka street. Besides this supermarket there are two convenient stores with one being open 24 hours.
Do you have western beds?
All our properties have western style beds.
Electricity in Japan?
The electricity supply in Japan is 100 volt, with a two-pronged plug arrangement.
Can I eat western food in Japan?
There are many western dining options in the bigger cities of Japan. You will be surprised with some of the Japanese food as it is very similar to western food! In Niseko there is a good mix of international and domestic dining options.