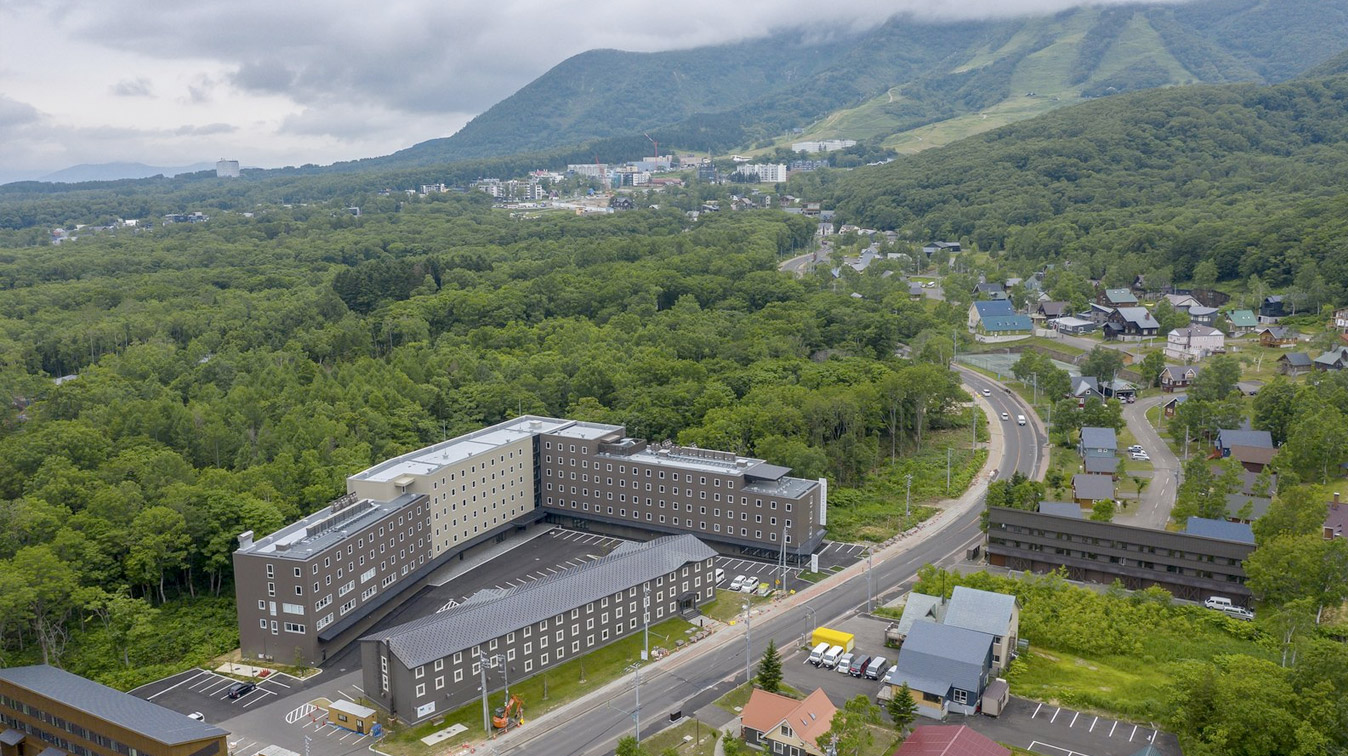 GETTING HERE
Located in the southwest corner of Hokkaido, Niseko is easy to reach reach. Sapporo (札幌) is the nearest city to the resort, with New Chitose Airport (新千歳空港) cleverly positioned to receive the least snowfall and keep flights running smoothly. Your most likely route from the majority of US and European cities is going to be to via Tokyo, but direct flights to Sapporo now run from most Asian cities so those routes could be worth considering too. Check out the transport options from airport to Niseko.
Shuttle Bus
The most simple and economical way to get you and your gear to the Midtown Niseko is one of many shuttle bus options. A ticket will set you back around ¥3,000, that's one-way, plus you can expect wide comfortable seats and a bathroom stop if you forget to go before climbing aboard! Buses run every hour during high season, starting at 9:30am up until 9:30pm, and usually only 80% of the seats are ever taken.
Tickets can be easily bought at the airport and travel times depend on which of the ski villages you're staying in. Travelers will be dropped at the Welcome Centre, and the Midtown Niseko Shuttle Bus will pick you up and make the short 2 minute drive down to the hotel.
Train
The Japan train system is reliable, clean and fast and is a popular option. You'll actually need to take two, which makes this mode of transport less convenient and more time-consuming than a shuttle bus. From New Chitose Airport Station take the JR Rapid Airport line to Otaru Station, where you'll change to the Hakodate Honsen line to reach Kutchan Station. A one-way ticket will set you back around ¥3,500 JPY and the whole journey is likely to take three to three and a half hours depending on how long you have to wait for your connection.
Private Taxi
If you're traveling as a group or family then perhaps a private taxi takes your fancy, it's a bit quicker and you won't have to wait around for the bus or train, but it'll set you back a minimum of ¥26,000 JPY . That's just for a basic car to fit four people, for larger cars and people carrier type vehicles the price can go as high as ¥50,000 JPY. Still, you'll get dropped off at Midtown Niseko and it shouldn't take much longer than two hours to arrive. Don't wait until you're at the airport to organize this, book online.
Car Hire
The ultimate in flexibility but the most costly option, hiring your own car means having the freedom to explore the different ski villages in Niseko and beyond, including Moiwa, Rusutsu, Toya and more. However, experience is advised if you're not used to icy roads and occasional blizzard conditions. .Confident behind the wheel in slippery conditions? Nice one, but you'll still need to get your International Driving Permit before you leave.
We would not bother hiring a GPS, unless you understand Japanese you'll struggle to use it (to input a destination, phone numbers are used instead of addresses). Just have Google Maps downloaded and make the necessary arrangements to have data available on your phone. A good thing is all the villages have free parking close to the lifts and they are rarely full. Book your wheels online, pick your ride up at the airport, and expect a two-hour drive to reach Midtown Niseko.